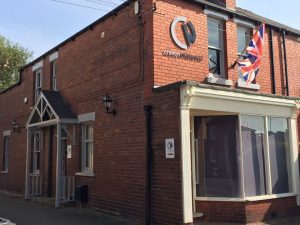 27/7/2020
Paul Wildsmith / Neal Craven
With over 50 years of combined experience in commercial and residential lettings and property management, Neal Craven and Paul Wildsmith couldn't be better qualified for their own property move, into Liley House of Northgate, Tickhill.
After celebrating their 10th anniversary in business last year, Craven Wildsmith of Netherhall Road Doncaster are going from strength to strength, most recently with the announcement of new offices in Tickhill.
Whilst most firms specialise in residential or commercial property management, Paul & Neal bring together their independent expertise in Residential & Commercial Property to offer a comprehensive property management service.
Between them they have over 50 years experience, managing property portfolios, commercial sales and leases, residential lettings, as well as surveys and valuations.
Paul, a Tickhill native, is a property management specialist with over 30 years industry experience, holding the prestigious RICS Diploma in Valuation Coatman Prize.
Previously a Partner at Barnsdales, Paul has a wealth of knowledge and expertise in Residential lettings and management and is also a qualified Inventory Provider being a member of the Association of Professional Inventory Providers which is part of the recognised Residential Association ARLA. "Im excited to have the opportunity to bring our specialist knowledge, experience and expertise to my hometown. Tickhill is a vibrant, charming and much loved town and we couldn't be happier to have offices here. The commute won't be bad either!" Working alongside Paul for over two decades, Neal has been in the property industry since 1985, working in Leeds before moving to Doncaster in 1986 where he started as a commercial surveyor with Barnsdales becoming a partner in 1990. In 2009 Neal and Paul sold their interests in Barnsdales and established Craven Wildsmith.
Neal, a registered valuer, with an MSc in Property Asset Management, is a fellow of and assessor for the RICS and a corporate member of the IRRV, and a former resident of Tickhill, having lived in the town when he first moved to Doncaster. Specialising in commercial sales, lettings and management, Neal also deals with professional matters such as surveys, valuations, and Landlord and tenant matters offering advice to both landlords and tenants at all stages from offer to termination.