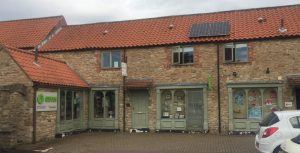 Retail TO LET
• Ground Floor
• 66m2 (710ft2)
• from VOA summary
• Last used as a shop
• For a variety of uses STC
• Popular village
• Shared on-site parking
• May Split
£1,250 Per Month
Location
The property is well located close to the centre of the popular village of Tickhill.
Business Rates
The rateable value in the 2017 list is £7,800. This information was obtained from an inspection of the VOA website in August 2019.
The RV is NOT the rates you pay for further information see https://www.gov.uk/calculate-yourbusiness-
rates 100% small business rates relief may be available on this property, for further details see https://www.gov.uk/apply-for-business-raterelief/
small-business-rate-relief
Description & Accommodation
A ground floor corner unit with 4 display windows to two elevations. The property was last used as a charity shop by Oxfam who's proposed layout plan is
set out below.
The unit can be sub-divided.
Commercial: Commercial _ Lettings, Offices to Let, Shops to Let